SWHS Spotlight Soloists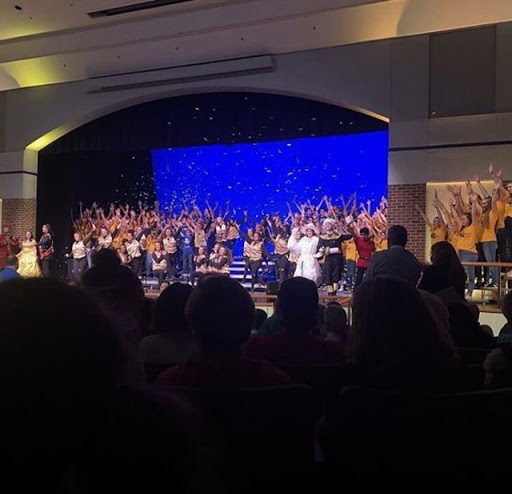 Mariana Rule
December 6, 2018
In the choral concert on December 5th, there were a combination between solos and entire chorus songs. The soloists were a select group of students that had auditioned for the role after carefully selecting the best song to showcase their talent. Mr. Martineau released the list on November 25th, so the excitement of the soloists had been growing until the concert. The soloists came from Spectrum, Understaffed, concert choir, and there was spotlight solos from the choral group.
Junior, Will Harper, sang a duet with senior, Megan Phadael. Harper is no stranger to performing solos and he decided that he wanted to sing 'I Know What You Did Last Summer' by Shawn Mendes with Phadael. After hearing it on the radio, he thought "Who would sound good in the part? I knew I needed an alto whose voice goes good with mine." Harper and Phadael were both very excited and nervous about the duet and Harper shared that "A little bit of nerves keeps us on our toes so we know that we're ready." Phadael agreed to sing the duet with Harper because "She likes to harmonize with other people." Phadael let Harper pick the song since the duet was originally his idea.
Another student, senior, Leah LePage, well known for her musical talent, is a part of chorus and Choral Spectrum. LePage sang 'Mama Mia' as a tribute to her best friend, Sarah Gallagher. Gallagher has been to every show and competition in support of LePage so she felt that it was "only fitting to do a song from her favorite movie." She was very excited for her solo because she "loves the opportunity to perform." She also shared that, "music is such a large part of my life, and I'm so glad I get to share it with everyone."
One of the songs performed, "Human" by Rag'n'Bone Man, featured four soloists including Marshall Nielson, Benjamin Thompson, Josh Hobbs, and Asher Robino. The soloists were all very excited about the concert. Junior, Josh Hobbs, had never auditioned for a solo before, but mentioned that he "always wanted to. I just felt like I should try it out this year." 
The concert has now come and gone and the students all rehearsed anytime they had time. The entire chorus has worked very hard to prepare for the program, but the soloists in particular, have put in extra time to learn their solos in addition to the normal program.