Baldwin Arrested for Assault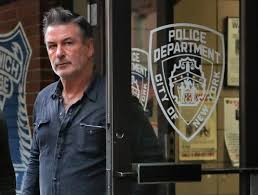 Mariana Rule
November 8, 2018
On Friday afternoon, Alec Baldwin was arrested and charged for assault and harassment. The arrest was allegedly due to an argument over a parking space. This is the second time Alec Baldwin has been arrested for assault.
His first arrest was in 1995 when he got into an argument over a photographer taking pictures of him. This did not hurt his career as he went on to win a multitude of awards for his work over the years. SWHS Senior, Sean Piepmeier, says "I don't think that the arrest will affect his career. His fan base is so big and we love him so it won't really change anything. He's still a great actor." The continuation of Baldwin's success seems highly likely after this occurrence.
According to CNN, Baldwin tweeted from an account saying "Normally, I would not comment on something as egregiously misstated as today's story. However, the assertion that I punched anyone over a parking spot is false. I wanted to go on the record stating as much. I realize that it has become a sport to tag people was many negative charges and defaming allegations as possible for the purposes of clickbait entertainment." The tweets are posted on the Hilaria and Alec Baldwin Foundation account.
Sam Pierce believes that "Alec shouldn't have reacted this way at all. There's police reports that he got physical and a lot of witnesses. There's no way he is gonna convince anyone otherwise, especially after his other arrest."
The fate of Baldwin's case is unknown at this point. He will appear in court in the next few weeks to receive his sentencing. The students at SWHS are mixed in their opinions of the future of Alec Baldwin.