Senior Parking Lot Issues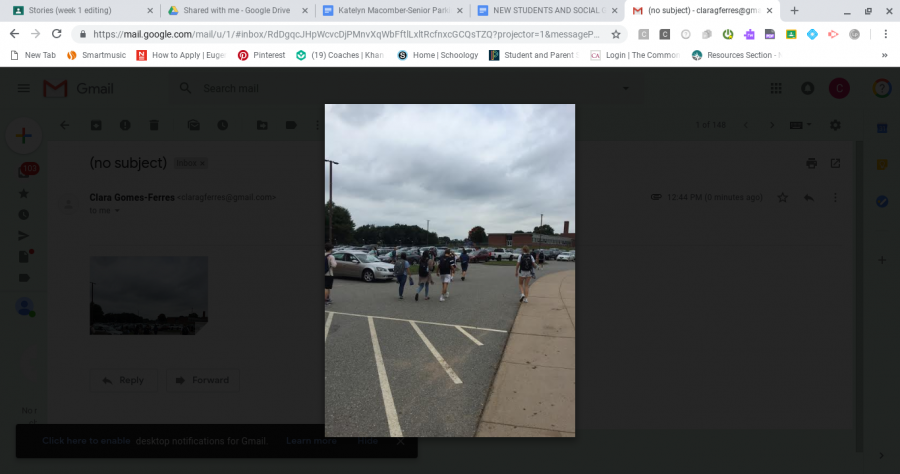 Katelyn Macomber
October 8, 2018
As seventh period comes to an end, the seniors of South Windsor High School rush to the student parking lot. Seconds before, these students are spilling out of the classrooms ready to dash straight to their cars. This creates a potential danger for students who are in a hurry to get somewhere. Once seniors enter the lot, they form into groups with their friends deciding where to get food or go that same day. These gatherings block other students from being able to leave the parking lot.
Although security guard Dave claims there has ¨never been any issues," some students feel otherwise. Senior Olivia LaRosa said, ¨it's a safety hazard because if you're trying to get somewhere and you can't because of students running in front of behind your car.¨ She explains this even though there haven't been any recent incidents that its an ¨accident waiting to happen.¨ After interviewing the security parking staff, they said if students are worried about this situation, they can have security wait outside during this time.
Even though security reveals a solution, what they're unaware of is the inconsiderate students. For instance, LaRosa also reveals that ¨students are so focused on running to their cars they are not aware of who is backing up.¨ This creates dangerous situations for both students and drivers. One solution we need to look into is the traffic. Having a security guard stand outside would not necessarily stop students racing to their cars due to traffic.
Due to the risks in the parking lot, students have been slowly taking action. Senior Lindsey Hurd decided to take her own action. Hurd discussed with the South Windsor High School principal about the dangerous driving due to excitement. She said, ¨there has been multiple instances where one of my friends have almost been hit.¨ She explains how the focus of getting out of the parking lot quick over rules the idea of being a safe driver.
On the other hand, students such as Chris Allevo explain, ¨since there has been no incidents, it would be unnecessary to keep a security guard outside during this time.¨ Some students are against this idea due to the fact it would be a waste of time and energy in order to find a solution for incidents that have never occurred at South Windsor High School.
The truth behind this reveals even through students excitement, they are responsible enough to be safe drivers. Even though there has not been any problems, students should become aware of the risks and potential dangers within the parking lot.