This is America, a Debriefing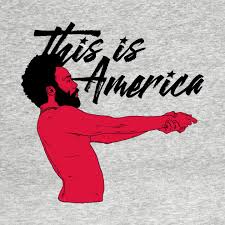 Camille Osumah
May 15, 2018
On May 5th, artists Childish Gambino released one hell of a music video and new song. Titled 'This is America,' it's actually suggested to watch the video at least a good 5 times. The now viral video has amassed over 81.7 million views in less than a week. Overflowing with symbolism and references to religion, criticisms of our society, humanity, the country, etc, the "trap gospel" song has everything and everyone.
Honestly, there's too much in the video to put into one article. I don't even think that all the hidden aspects within the video have been found yet. Let's just address what we do know.
The video's first scene is Gambino shooting a black man in the back of the head. Of course, a lot can be said about this; but there is even more with what is done with the gun that killed the man. Immediately after the shooting, Gambino hands the gun to another man who wraps it up nicely. The murdered black man is dragged away. No proper burial or covering for him.
Throughout the video, Gambino's sporadic dancing and posture is meant to represent Black Jim Crow. A racist persona created during 19th century for entertainment among slave owners. Along with the Jim Crow moves are the teen black dancers in the background. Throughout the whole video they are smiling, somehow oblivious to the obvious chaos happening all around them.
A notably shocking scene comes with the choir shooting – a particularly glaring reference to the 2015 Charleston shooting. Notice, it's an all black choir that is killed and left lying for dead. Yet once again, the gun that caused the tragedy was carried off wrapped and covered.
Throughout the song there were several adlibs from other artists that contributed to the overall sound and experience. Rappers such as Blocboy JB, Slim Jxmmi, Young Thug, Quavo, and 21 Savage added their own part to this exposé.
"This is America" is a lot. Some would say its progressive, crazy, or even a protest song. No matter, what it is, the song has started a conversation. It has prompted people to try and lift the veil, look into the chaos that continues to be ignored.
Now, that sounds like America.